An antifungal medication, also known as an antimycotic medication, is a pharmaceutical fungicide or fungistatic used to treat and prevent mycosis such as athlete's foot, ringworm, candidiasis (thrush), serious systemic infections such as cryptococcal meningitis, and others.
Antifungal pharmaceuticals include Terbinafine HCL, here is the structure: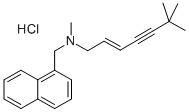 An antibiotic (from ancient Greek αντιβιοτικ?, antibiotiká), also called an antibacterial, is a type of antimicrobial drug used in the treatment and prevention of bacterial infections.
Sometimes the term antibiotic (which means "opposing life") is used to refer to any substance used against microbes.